MyHeritage has the time - a TimeLine and a TimeBook.
Not sure what these are? Read on for quick descriptions and video links to provide more information. I'm focusing on TimeLine in this post.
Timeline is an interactive feature demonstrating the relationship of history's main events to your family's important dates.
This is an important feature because each person's unique family history has always been impacted by worldwide historical events that caused very local effects.
One example might be an early 19th-century cholera epidemic, quite common at the time around the world and frequently fatal for young children and the elderly. Such epidemics may be responsible for many deaths noticed in historical vital records.
And, while regional and world wars covered a wide swath of territory, local events may have "encouraged" your ancestors to move somewhere less chaotic and more safe.
To truly understand the lives of our ancestors, we need to learn about historical events that may have effected them.
When I began my quest, I noticed that my great-grandmother's brother, Chatzkel Bank, had arrived in New York City in January 1913 and began working to bring over his wife, son and infant daughter.
Here's his arrival record, with the surname misspelled as Blank:

The war began in 1914, and he could not contact his family nor bring them to New York.
It took a few years after the war's end to establish contact and his family somehow reached the UK.
Now known as Haskell Bank (the true surname), he became a US citizen in 1923 and, in 1924 (when the US immigration doors had slammed shut), he applied for a US passport specifically to travel to the UK to bring over his family. Here is his passport application:
It was nice to see that the second page of the application was witnessed by another cousin, Harry Jassen, and that there was a photo of Haskell attached.
Here is the 1925 arrival record showing only Haskell and his wife, the son was listed on another page.
Learning about the war, shipping disruption, communications failure, people displacement, life in a war zone, immigration rules and other events helped me understand what had happened to this separated family over the years. The simple arrival date - 1913 - of the husband and the later arrival date - 1925 - of his family could not have supplied that background information.
Here's a link to the TimeLine for President John F. Kennedy to explain the feature in a different way.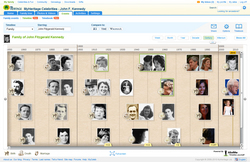 Information supplied by users is arranged to show family history alongside major world events of the same time frame.
Have you used the TimeLine feature yet? Has it helped clear up some mysteries, or provided better understanding of your ancestors' lives. I'm looking forward to reading your comments.
Search for your ancestors: